Hob Cutter
DuAl EX/VX Hob
Great performance without coating after regrinding
Applicable for wet and dry hobbing.
Long service life due to re-grinding specifications without coating on cutting face.
Dual Cut Hob
Both dry hobbing and conventional wet hobbing are available. Dry hobbing helps to solve environmental problems.
For Dry and Wet Hobbing
In dry hobbing, cutting speed can be changed faster than that in conventional wet cutting, and tool life is extended.
Long Tool Life in Wet Hobbing
Even if wet hobbing, higher cutting speed and longer tool life are achieved.
Solid Carbide Hob for Dry Hobbing
Ultra-high Speed in Dry Hobbing
More than 300m/min in cutting speed is available.
High Efficiency
3 times higher than that of HSS Hob.
Long Tool Life
Over 10 times longer than that of HSS Hob.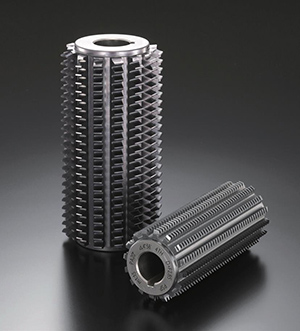 Download: