Aqua REVO Oil Hole Drill Series
Longer tool life by increased coolant amount through the new development of REVO Power Cooler Oil-Hole material
Optimized Oil-Hole geometry "REVO Power Cooler" adoption.
Excellent function of Cooling, Lubrication, and Chip evacuation.
Applicable for a wide range of materials, such as Stainless steel to High hardened material.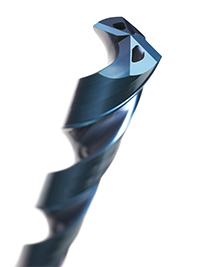 Outline
AquaREVO Drills Oil-Hole
Optimized Oil-hole geometry REVO Power Cooler adoption

Coolant amount is 2 times than conventional.
Achieved excellent cooling and lubricant performance furthermore, best chip evacuation.

Longer tool life

New development Carbide Oil-hole material with high toughness and hardness.
New development REVO-D coating.

Wide range response

Apply for wide range material, such as Stainless steel to High hardened Material.
Achieve great performance with high speed and high feed drilling.
Catalog Download


Catalog No.2201-4 AquaREVO Drills Oil-Hole (12 pages/1,084KB)
Features & Performance
AquaREVO Drills Oil-Hole
Carbon steel (S50C), Comparison Tool Life with conventional condition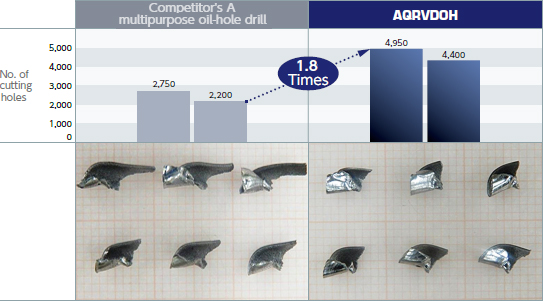 Diameter
:
Ø8.0
Work material
:
S50C (180HB)
Cutting Speed
:
120m/min
Feed Amount
:
0.254mm/rev
Depth of Hole
:
40mm (5Dc)
Machine
:
Vertical M/C
Cutting Fluid
:
Water-soluble
Double Tool Life than competitor
AquaREVO Drills Oil-Hole�s chip is smaller than competitor
Although it is a multi-purpose drill, even compared to the drill for Stainless steel, more than twice as much drilling

Diameter
:
Ø8.0
Work material
:
SUS304
Cutting Speed
:
80m/min
Feed Amount
:
0.20mm/rev
Depth of Hole
:
40mm (5Dc)
Machine
:
Vertical M/C
Cutting Fluid
:
Water-soluble
List Numbers
L9864 3D (JIS) – Metric
L9872 3D (DIN) – Metric
L9873 3D (DIN) – Fractional
L9866 5D (JIS) – Metric
L9874 5D (DIN) – Metric
L9875 5D (DIN) – Fractional
L9868, L9868D 8D – Metric
L9869 8D – Fractional
Download: